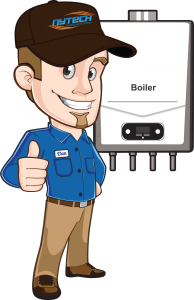 Nytech, the Boiler Repair Experts in Douglas County
When your boiler is acting up and your home is as cold as ice – you know it is time to call the boiler repair experts in Castle Rock CO. Nytech Heating, Cooling, and Plumbing's technicians are standing by to diagnose the issue with your boiler, get it fixed, and restore your comfort. You can count on our experts to get the job done quickly and efficiently at a fair price.
Reach out to us at 303-663-6840 to schedule boiler repair in Castle Rock CO or Larkspur CO
---
Golden Guarantee for Boiler Repair or Service
We guarantee any service or any repair for one year. If your system breaks down or experiences issues anytime during that year, we will come back during regular business hours to diagnose the problem for FREE.
---
Signs Your Boiler Needs Repair
Boilers use fuel like natural gas to heat water, which is then circulated throughout the home to provide heat. While the process may seem simple, boilers are complex, and a problem in any component may cause a system failure. Here are some signs that your boiler needs the attention of an expert:
It's not putting out enough heat to keep you comfortable.
The system starts or shuts off at random.
Breakers and safety devices trip when the system comes on.
Water is pooling around it or leaking from your pipes.
The system seems to be constantly refilling.
You hear strange noises or clunking sounds.
The smell of sulfur, burning, or mildew becomes evident.
If you notice any of the above items, don't worry. Give 303-663-6840 a call.
The Most Common Causes of Boiler Failure
Is your boiler not producing enough heat to keep you comfortable? Are there cold spots on your radiator? Do you hear strange noises coming from your pipes? Then it's time to call in a boiler expert. Diagnosing the causes of these issues takes an expert's eye. The complexity of boilers often makes pinpointing the root of a problem difficult. We find many boiler issues in the Castle Rock CO and Larkspur CO areas are often caused by:
Failed Pilot Lights: Without a functioning pilot light, your boiler can't heat its fuel source. Though sometimes caused by a dirty burner, it can also be caused by a broken thermocouple or problems with other components.
Frozen Condensate Pipes: Condensate pipes transport acidic water produced by the boiler to an outside drain. This pipe can freeze, which can cause it to burst. It should produce an error code and alerting you to contact an HVAC technician.
Excess Pressure:If your pressure gauge reads below "1" or is in the red, your system is having a pressure problem. Problems like a water leak, a faulty pressure relief valve, or excess air in the system can cause this issue. The best way to pinpoint the problem is to give Nytech Heating, Cooling, and Plumbing—Castle Rock CO boiler repair experts—a call.
Kettling or Whistling: If your boiler's making a deep rumbling sound, like a tea kettle on the verge of whistling, you have a serious problem brewing. This is caused by sludge or scale build-up on the heat exchanger that is obstructing the water, leading to a whistling sound.
Boiler Leaks: A leak is the most obvious sign of a problem in your boiler system. Leaks are not only a nuisance but lead to water damage and additional damage to the system's electrical malfunctions.
Though boilers can fail throughout the heating season, the most common time for breakdowns is at the beginning of the winter. After being off for the summer, the first start-up for the season can cause pressure that strains worn-out components, leading to system failures. We recommend annual boiler maintenance to help prevent the likelihood of a boiler malfunction and your family suffering in a cold house. This critical service will not only reduce breakdowns, but will also help your system operate efficiently and promote longer system life.
For Expert Boiler Service in Castle Rock CO Call Nytech Heating, Cooling, and Plumbing
If you live in the Larkspur CO area, reliable boiler repair is just a phone call away. Our HVAC and Plumbing professionals have been fixing broken boilers in Colorado since . This has equipped us with the expertise to pinpoint and resolve the most common boiler issues. To see why so many of your neighbors rely on us for us, check out our list of happy customers on Google!