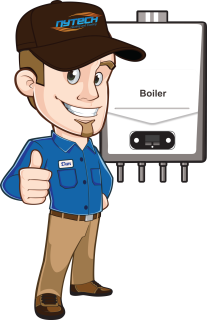 Proper Boiler Maintenance is the Key to Peak Efficiency & Longer System Life
No matter what kind of boiler you have—electric, gas, or combination—you must maintain it properly. And, for safety and efficiency reasons, it's best to leave this part of boiler service to a licensed professional.
Regardless of boiler model or brand, Nytech Heating, Cooling, and Plumbing has the expertise necessary to complete your annual boiler maintenance promptly and professionally. To learn more about our boiler maintenance program—and how it can save you time and money —call us at 303-663-6840.
Dial
303-663-6840
to Schedule Boiler Maintenance in Douglas County
Why You Should Never Skip Your Boiler Maintenance
Money may be a little tight right now, and you'd probably like to spend it on anything other than boiler service. We understand that, but this is one area where spending a little today could save you big bucks later on. Skipping annual maintenance could mean an increased risk of a costly breakdown, increased energy costs and safety risks, and a shorter lifespan for your boiler. Rolling all the risks together – maintenance seems like the most cost-effective plan.
Left unmaintained, your boiler can build up excess heat and pressure—becoming a safety risk to you and your home. And, if that safety risk isn't enough to convince you, there are warranty requirements to consider. Most boiler manufacturers require proof of annual boiler maintenance before fulfilling their obligations. So, if you don't want to be left on the hook for a costly boiler repair, it's best to give 303-663-6840 a call to join our Total Care Club.
The Benefits of Keeping Your Boiler Maintained
We just went over the risks of skipping boiler maintenance; now it's time to look at the positive side. Having your system regularly checked by the boiler experts at Nytech Heating, Cooling, and Plumbing can:
Reduce Breakdowns: What was just a loose bolt or rivet can quickly become a repair that could cost you hundreds of dollars. During our check, we'll look over all the components for signs of excess wear. Allow us to replace them before they break and cause a system failure.
Increase Boiler System Life: The low cost of keeping your boiler maintained is far cheaper than replacing your boiler years before you should. By making your system more efficient and relieving excess wear, you can extend your unit's life by months or years.
Safety: Annual boiler maintenance protects your family from the risks associated with a compromised boiler. This includes a lower likelihood of carbon monoxide exposure and a reduced chance of complete system failure. Call Nytech Heating, Cooling, and Plumbing to get your annual boiler service scheduled.
More Heat – Less Cost: Imagine running a race while breathing through a straw. It wouldn't be long before you wouldn't be able to get enough oxygen to keep going. Well, just like this scenario, a dirty boiler will struggle to keep up with the demand for heat and will eventually give up the ghost. Annual maintenance will ensure the system is cleaned and operating at peak efficiency—more heat for less utility cost, lower wear-on-tear on your system, and longer system life.
Nytech Heating, Cooling, and Plumbing, the Trusted Boiler Repair, Service, and Replacement Experts in Castle Rock CO and Larkspur CO
At Nytech Heating, Cooling, and Plumbing, we're a true home comfort specialists. This means we're not only able to tackle your annual boiler maintenance, but also repair and replace your system as well. Our technicians and plumbers receive ongoing training to ensure they're ready to service any boiler, including those from AO Smith, Bock, and Bryan. If you live in Douglas County or the surrounding areas, we invite you to give us a try. To see why so many people trust us with their HVAC service, check out our reviews on Google.