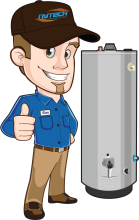 Water Heater Maintenance & Flush in
Douglas County
Just like your heating and cooling system, your water heater needs annual maintenance to keep it operating at peak performance. Over time, sediment can build up within your water heater which causes performance issues, and if left unaddressed, will lead to early system failure.
---
$79
Annual Water Heater Maintenance & Flush*

*Applies to standard water heaters. Tankless water heaters maintenance $199. Cannot be combined with other offers. Good thru September, 2023.
Why Do Water Heaters Need to Be Maintained?
Whether you have a standard or tankless water heater, sediment, calcium, and other minerals will accumulate in your system. Since Colorado's groundwater supplies are naturally high in calcium and magnesium, our water is typically hard. When you have harder water, the rate of sediment buildup in your water heater increases. As part of our annual water heater maintenance services, we will flush the system to remove as much sediment as possible.
While we are flushing your water heater, our licensed plumbers will inspect your system to determine the condition of components and check for safety issues.
This vital water heater service will help keep your system operating efficiently to increase the availability of hot water, decrease energy use, help ensure safe operation, reduce breakdowns, and promote longer water heater life.
Annual Maintenance is Vital to Keep Tankless Water Heaters Operating at Peak Performance
Although a tankless water heater does not have a 40-75 gallon tank of water (which, by the way, is the perfect place for sediment to build up), water does go through the system, and as it passes, it leaves particulates behind that will cause a sediment buildup. Sediment buildup is even more damaging to tankless water heaters, as it collects on the components that heat your water.
Additional Water Heater Services in Castle Rock CO and Larkspur CO
Whether you need to schedule water heater maintenance or repair, or are ready for a replacement, the professionally trained and licensed plumbers at Nytech Heating and Cooling are standing by to get you taken care of. Call us at 303-663-6840 or click here to schedule.