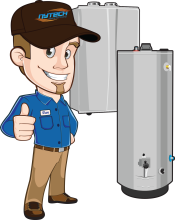 Water Heater Issues? We Can Fix That!
Though rarely thought about, your water heater is critical to living comfortably. You rely on it not only for bathing and showering, but for cleaning as well. Being without it is more than inconvenient. When it breaks down, you need a plumbing expert to diagnose the problem and repair your water heater quickly. Fortunately, whether the required repair is minor or significant, Nytech is here to assist.
---
Golden Guarantee for Water Heater Repair or Service
We guarantee any service or any repair for one year. If your system breaks down or experiences issues anytime during that year, we will come back during regular business hours to diagnose the problem for FREE.
---
Signs Your Water Heater Needs Attention
Sometimes a cold shower happens because your laundry, dishwasher, and a couple of long showers emptied the tank. However, if you notice the following issues, give us a call at 303-663-6840:
Knocking or Tapping Sounds: If you hear rumbling, knocking, or tapping noises from your water heater, you likely have sediment buildup. This layer of gunk living in your water heater makes it harder to heat water and reduces the amount available. Regular water heater maintenance helps reduce the buildup of sediment to help extend your water heater's lifespan in Castle Rock CO.
Temperature Fluctuations: When working efficiently, your water heater should stay at the temperature you programmed. But sometimes the water cools off too quickly, or the water in the tank needs to be evenly heated. If you notice this, it's time to call for a water heater repair. Usually, a thermostat or heating element replacement will do the trick.
Leaks: Leaks of any kind from your water heater should always be addressed. Even a tiny leak is a symptom the system integrity is compromised. If you notice puddling or even moisture around your water heater, that's a sign that your unit needs immediate attention. Best case, there's a loose pipe or screw in need of tightening.
Foul-Smelling Water: When you turn on your faucet, does the smell of rotten eggs or sulfur flood your home? Is your water clear as frosted glass? These issues indicate that your unit's anode rod—responsible for purifying the water—is failing in its duties. We recommend contacting us at 303-663-6840 to verify if this is the issue.
Why You Need a Water Heater Repair Expert to Get the Job Done Right
Leave your water heater repair to Nytech Heating, Cooling, and Plumbing for guaranteed results. Because we're experts, we also approach your unit with the respect it deserves. Safety, for us, comes before all else. To schedule service with us, give 303-663-6840 a jingle or fill out our contact form.
Call Nytech Heating, Cooling, and Plumbing for Water Heater Repair in Douglas County
Nytech Heating, Cooling, and Plumbing repairs all types of water heaters. It doesn't matter if you have a solar-powered, tankless, or standard water heater. Our experienced plumbers can quickly diagnose the issue and end the cold showers. If it's an emergency, call 303-663-6840 to get our next available appointment.
When you rely on us for water heater service, you can rest easy knowing you'll get the advice best suited to you and your family. If that means repairing the unit, our service staff carry the parts needed for the most common repairs. For instances where water heater replacement is the best or only answer, we'll help you determine the model suitable for your family and make the installation process painless.